How do I properly program and use my thermostat?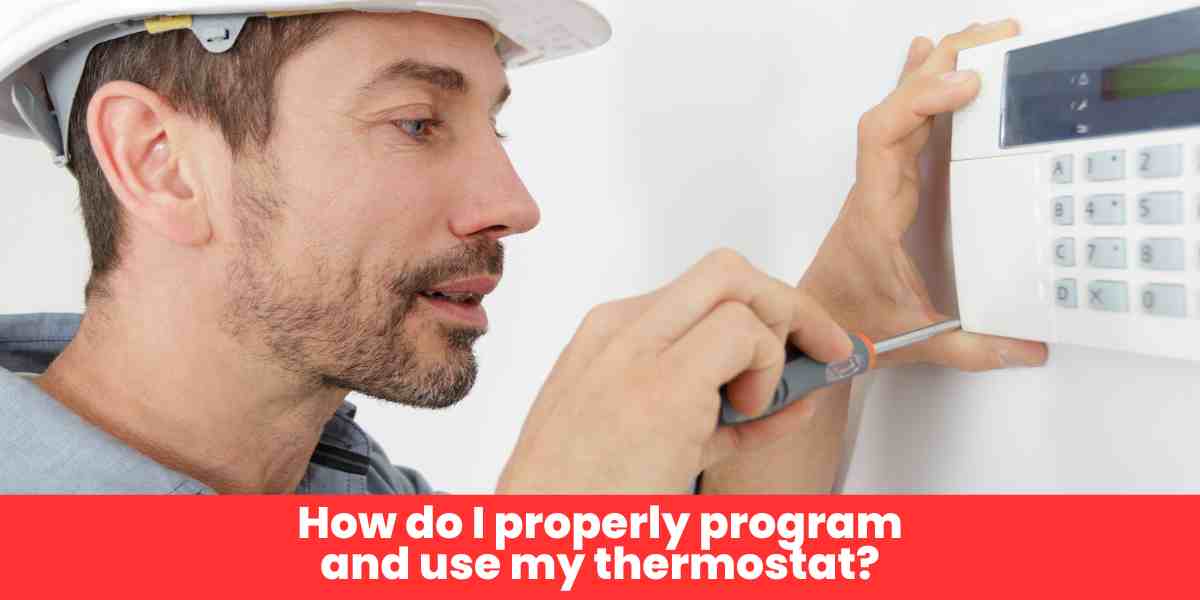 At Mr. Pipes, we understand that programming a thermostat can be a daunting task. That's why we've put together this comprehensive guide to help you through the process. In this guide, we will cover everything you need to know about how to program a thermostat, including the benefits of doing so, the different types of thermostats available, and a step-by-step guide on how to program your thermostat.
Benefits of Programming a Thermostat:
There are several benefits to programming your thermostat. Firstly, it can help you save money on your energy bills by ensuring that your heating and cooling systems are only running when you need them to. Secondly, it can help to reduce your carbon footprint by reducing the amount of energy you use. Finally, it can help to make your home more comfortable by ensuring that the temperature is always at the right level.
Types of Thermostats:
There are several different types of thermostats available, each with its own set of features and benefits. The most common types of thermostats are:
Programmable Thermostats: These thermostats allow you to set different temperature settings for different times of the day. For example, you can set the temperature to be cooler at night when you're sleeping, and warmer during the day when you're awake.

Smart Thermostats: These thermostats are connected to the internet and can be controlled using a smartphone app. They also have features like geofencing, which allows the thermostat to adjust the temperature based on your location.

Manual Thermostats: These thermostats require you to manually adjust the temperature settings. While they are the simplest type of thermostat, they do not offer the same level of control as programmable or smart thermostats.
Step-by-Step Guide on How to Program Your Thermostat:
Read the Manual: Before you start programming your thermostat, it's important to read the manual. This will give you a better understanding of how your thermostat works and how to program it.

Choose Your Settings: Decide on the temperature settings you want for different times of the day. For example, you may want the temperature to be cooler at night when you're sleeping, and warmer during the day when you're awake.

Set the Date and Time: Make sure you set the correct date and time on your thermostat. This will ensure that your thermostat is programmed to the correct time of day.

Program Your Thermostat: Using the instructions in your manual, program your thermostat with the temperature settings you have chosen.

Test Your Thermostat: Once you have programmed your thermostat, test it to make sure it's working correctly. You can do this by adjusting the temperature and making sure the heating and cooling systems are turning on and off as they should.
Programming your thermostat is an important step in reducing your energy bills and making your home more comfortable. By following the step-by-step guide in this article, you can program your thermostat with ease. If you have any questions or concerns about programming your thermostat, don't hesitate to contact us at Mr. Pipes.
psusa.org
Paul Sullivan's personal training in Houston.
cdwebmaker.com
Charlie Davis website design.
Attorney in Family Law Milton
Separation and family law lawyer in Milton Ontario including criminal law matters serving Toronto and the GTA including Halton and Peel.
Truck Freight Forwarding Company Toronto
Freight forwarding consultant Chuck O. Carlson advises manufacturers, distributors and import-export businesses on freight forwarding in Canada.
More info about Royal Rife Machines
What is a Royal Rife machine? See and compare Rife machines here. Know what to look for in a Royal Rife machine. Improve your health and well being, starting today.
Roger Haynes Law Firm Dallas
The Law Office of Roger E. Haynes provides experienced, aggressive State and Federal criminal defense representation based in Dallas, Texas. Whether you are being investigated, accused of, charged with or indicted for a criminal case you need to call right now. Opportunities to win the case are lost by waiting.
Fort Worth Movers
Dallas-Fort Worth mover. DFW movers. Dallas-Fort Worth moving company. Statewide, local movers. Hawk Moving: 3102 Maple Ave #400 Dallas 75201 - 972-660-4055 (or) 777 Main #600 Fort Worth 76102 - 817-540-3135
The Sylvie Collection
Diamond engagement rings by Sylvie Collection are designed by a woman for a woman. Sylvie creates diamond engagement rings and designer engagement rings that are a symbol of your endless love and commitment. Find the nearest store location to view and purchases.
Structured Voice and Data Cabling Company
Tandem Data services Dallas and the surrounding areas with a single source solution for your structured cabling needs. We work with you to assess and design your sites specific network cabling requirements and then implement the best data network cabling solution while keeping your budget in mind. You can expect that throughout the process our trained installers will ensure the highest quality service and we are sure to exceed your expectations.