How can I reduce the amount of noise my HVAC system makes?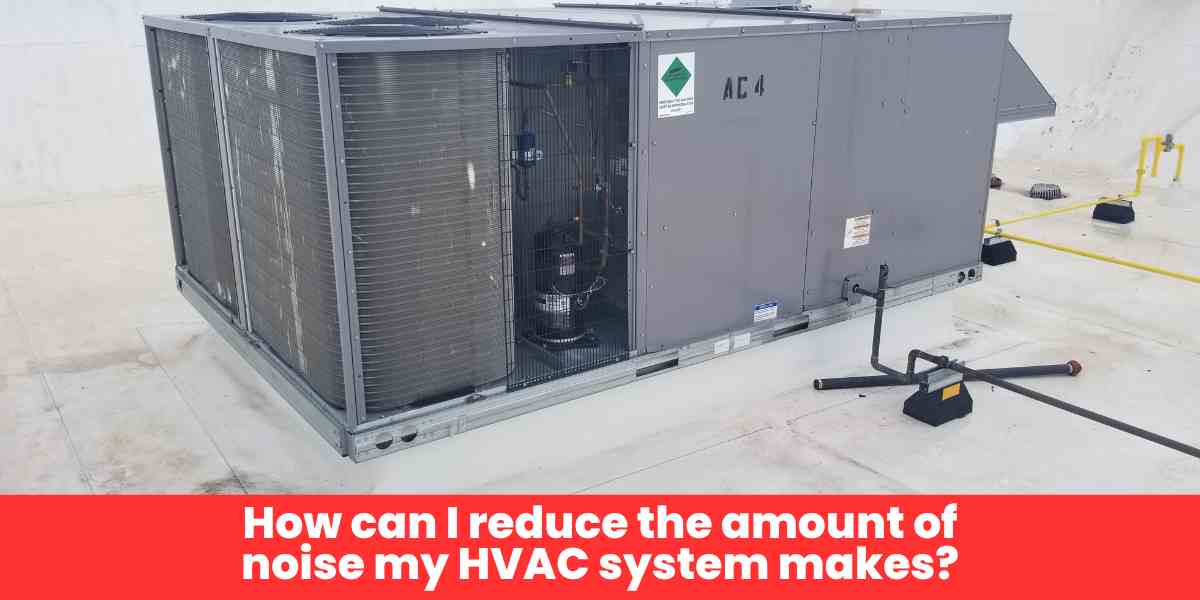 Effective Ways to Reduce HVAC Noise Pollution
At [Our Company Name], we understand the importance of creating a comfortable and quiet indoor environment. One common problem that many people face with their heating, ventilation, and air conditioning (HVAC) systems is noise pollution. HVAC noise can be disturbing, distracting, and even harmful to health, productivity, and well-being. In this article, we will share with you some effective ways to reduce HVAC noise pollution and improve your indoor quality of life.
Understanding HVAC Noise Pollution
Before we discuss the solutions, let's first understand what causes HVAC noise pollution. There are several factors that can contribute to HVAC noise, such as:
Equipment type and age: Older HVAC systems may be less efficient and noisier than newer models, especially if they are not properly maintained or repaired.
Design and installation: Poorly designed or installed HVAC systems may produce more noise than well-designed or installed ones. Factors such as duct size, layout, insulation, and location can affect noise levels.
Usage and settings: HVAC systems that are used more frequently or at higher settings may produce more noise than those used less frequently or at lower settings. Factors such as a thermostat, fan, and filter settings can also affect noise levels.
Environment and context: The location, size, shape, and materials of the room or building where the HVAC system is installed can affect noise levels. Factors such as proximity to other sources of noise, such as traffic or neighbours, can also affect noise levels.
By identifying the source and nature of the HVAC noise, we can better select and implement the solutions that work best for your specific situation.
Effective Ways to Reduce HVAC Noise Pollution
Based on our experience and expertise, we recommend the following ways to reduce HVAC noise pollution:
Upgrade Your HVAC System
If your HVAC system is old, inefficient, or noisy, it may be time to upgrade to a newer, more efficient, and quieter model. Modern HVAC systems come with advanced features such as variable-speed compressors, sound-dampening insulation, and programmable thermostats, which can significantly reduce noise levels while improving energy efficiency and comfort. Our team can help you choose and install the best HVAC system for your needs and budget.
Maintain Your HVAC System
Regular maintenance and cleaning of your HVAC system can also help reduce noise pollution. Dirty or clogged filters, ducts, and fans can cause your HVAC system to work harder and produce more noise. By scheduling annual or bi-annual maintenance appointments with our technicians, you can ensure that your HVAC system is running smoothly, quietly, and efficiently.
Soundproof Your Room or Building
If your HVAC system is located in a noisy environment, such as a busy street or a shared wall with a neighbour, you may need to soundproof your room or building. Soundproofing materials such as acoustic panels, curtains, foam, and insulation can absorb or deflect sound waves, reducing the amount of noise that enters or leaves the room. Our team can assess your room or building and recommend the best soundproofing solutions for your specific needs and preferences.
Redesign Your Ductwork
If your ductwork is poorly designed or installed, it may be contributing to the HVAC noise pollution. By redesigning your ductwork, you can improve the airflow, reduce turbulence, and lower the noise levels. Our team can analyze your ductwork and suggest the best design and installation options for your HVAC system.
Adjust Your HVAC Settings
Finally, you can also reduce HVAC noise pollution by adjusting your HVAC settings. Lowering the fan speed, reducing the temperature difference between the indoor and outdoor air, or using a quieter mode can all help reduce noise levels. Our team can show you how to use your HVAC system effectively and efficiently while minimizing noise pollution.
Reducing HVAC noise pollution is not only a matter of comfort and convenience but also a matter of health and safety. By implementing the above solutions, you can enjoy a quieter and more pleasant indoor environment while improving your energy efficiency and air quality. At Mr. Pipes, we are committed to providing you with the best possible HVAC solutions and services, tailored to your specific needs and preferences. Contact us today to learn more about how we can help you reduce HVAC noise pollution and enhance your indoor quality of life.
Financial Planning - Toronto Provider
What separates us from other advisors is a commitment to comprehensive financial planning. We believe that investing is not only about financial products, but relationships. We do not charge additional fees for creating a comprehensive financial plan, and we encourage all clients to begin their relationship with us by having our team complete a comprehensive financial plan. This will include retirement planning, estate planning, planning for any special needs family members, education planning, insurance planning and any other related financial issues. It is only after fully understanding your financial picture that we can properly construct a customized solution that will meet your unique needs.
Employment Lawyer Toronto
Employment Lawyers Toronto - Hyde HR Law is a boutique Employment and Labour law firm in Toronto. Centred in the GTA, and represent clients across Canada
Wylie Drainage Solutions
In North Texas, with our severe summer droughts followed by flash flooding, you may need a French drain installed along with surface drains to help protect your landscaping and foundation.
joyleftow.com
London, Ontario employment lawyer with 15 years experience.
ravensnest3.com
Event cleaning company in Dallas Metroplex.
edwinstipe.com
Lehigh Valley PA trusted plumbing, heating and air conditioning experts since 1894.
123biz.biz
Event planning in DFW.
MS Society
Donate to the MS Society
www.cnn.com/
CNN.com delivers the latest breaking news and information on the latest top stories, weather, business, entertainment, politics, and more. For in-depth coverage, CNN.com provides special reports, video, audio, photo galleries, and interactive guides.
Read more on plastic extrusions
Trimco was founded in 1968 to provide the market-place with a reliable source of plastic extrusions. The company has evolved to become a recognized leader in the design and development of automotive, industrial and custom extrusions.
Barry Cull - Emerging Writer of Fiction and Non-Fiction
Barry Cull is an emerging author of short stories and creative non-fiction. He has submitted his writing to several literary magazines and journals including; Poached Hare, Dreamers, Ageless Authors, Stardust Review and The New Quarterly. He is presently seeking an agent to assist with the publication of his work.